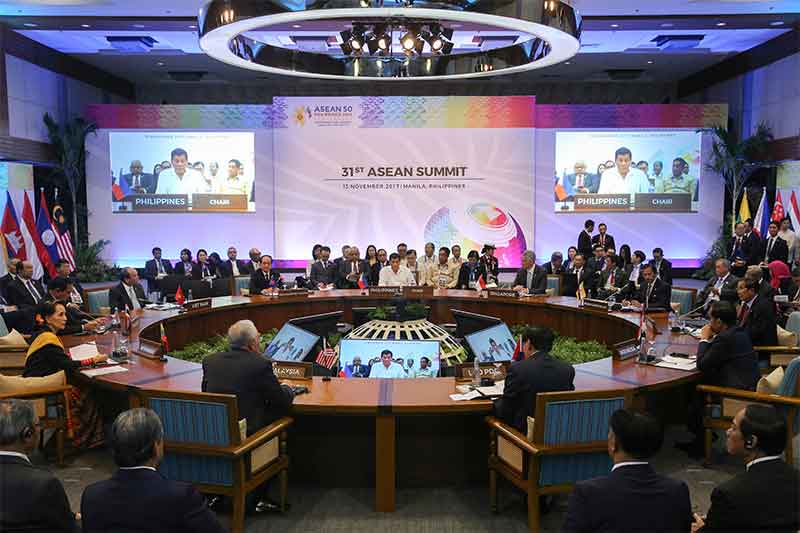 MANILA, Philippines — Southeast Asian leaders on Tuesday signed a landmark document advancing the interests and welfare of thousands of migrant workers in the region.
The heads of state of the ASEAN member-states signed the ASEAN Consensus on the Protection and Promotion of the Rights of Migrant Workers during the 31st ASEAN Summit in Manila.
In his opening statement, President Rodrigo Duterte noted that the signing of the landmark document would strengthen social protection, access to justice, humane and fair treatment and access to health services for migrant workers in the region.
"I am pleased to announce that ASEAN member states have come to an agreement on the ASEAN consensus on the protection and promotion of rights of migrant workers," Duterte said.
The implementation of the consensus would be subject to the respective laws of ASEAN member-states.
Among the provisions of the document are the following:
Fair treatment of migrant workers with respect to gender and nationality
Allows visitation rights by family members
Prohibition of confiscation of passports and overcharging of placement or recruitment fees
Protects against violence and sexual harassment in the workplace
Respects right to fair and appropriate remuneration and benefits
Right to join trade unions and association
Labor Secretary Silvestre Bello III said that the consensus would benefit the 212,435 Filipino migrant workers in Southeast Asia, majority of whom are employed in Singapore and Malaysia.
"In cases where Filipino migrant workers are imprisoned, they will have rights no less favorable than those applied to the local workers. They also have the right to file grievances with the relevant authorities in the countries they are working in," Bello said.
Senior Labor officials of the ASEAN finalized the agreement during their retreat in Manila last August 25.
According to the Department of Foreign Affairs, the ASEAN consensus will continuously evolve in years as it calls for the development of an action plan to concretize the implementation of the mandate. By Patricia Lourdes Viray
Source: http://www.philstar.com/headlines/2017/11/14/1758839/asean-leaders-sign-landmark-declaration-migrant-workers
The views and opinions expressed in this article do not necessarily reflect the official policy or position of the ASEAN Trade Union Council.
Asean Trade Union Council Secretariat
c/o National Trade Union Center Philippines
Suites 8 N & O, Future Point Plaza 2, 115 Mother Ignacia St., South Triangle, Quezon City 1103, PHILIPPINES
Email us